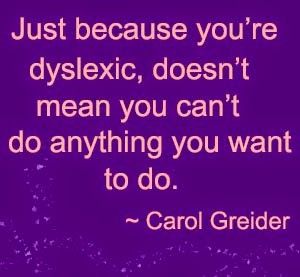 Hi everyone
As promised last week today I'm going to take a look at 'What is Dyslexia?' This is an overview and if you feel your child may be Dyslexic, where to go to get the support that will help you at what can be a bewildering time.
My son was diagnosed with Dyslexia when he was nineteen. Labelled as a 'lazy boy' throughout his school life he was diagnosed at college.
Moderately dyslexic, he managed to develop strategies to deal with the ordeal he knew a 'school'.
There are many definitions but I like this one from Helen Arkell Dyslexia Centre -
"Dyslexia is a learning difficulty (or difference) that primarily affects the skills involved in accurate and fluent word reading and spelling. • Dyslexia occurs across a range of intellectual ability.
Dyslexia is a complex Specific learning Difficulty (Difference) I really think that 'difficulty' makes Dyslexia seem like a problem.
It is not a problem.
Dyslexic students have many skills and qualities which I would like to explore in a future blog.
Dyslexia is not black and white but a whole range of shades of grey.
Every child has different strengths and challenges. For this reason it is important to get a specialist assessors diagnosis. This discovers the nature of your child's skills and importantly their learning style. This enables a programme to be devised to exploit those qualities.
Although each Dyslexic child is very unique with unique skills, they also have similarities as Dyslexia can make them feel different from their peers, and less valued. A good Dyslexia tutor can turn that around.
Where you can find a qualified Dyslexia tutor or find a Dyslexia Assessor?
The British Dyslexia Association
They have a tutor list on their website. An AMBDA can assess, diagnose and tutor a Dyslexic student.
Website - https://www.bdadyslexia.org.uk/
Patoss, The Professional Association of Teachers of Students with Specific learning difficulties
Patoss also has a tutor list on their website. Tutors holding an APC can assess, diagnose and tutor a Dyslexic student.
Website - https://www.patoss-dyslexia.org/
Please enter any questions or comments in the comments box.
Enjoy the rest of your week.
More Dyslexia information on Thursday